A Europe of rights has become in the last decades more and more important in the life of each single country and of each Bishops' Conference of the Continent.
Periodically CCEE gathers the Legal advisors of the Bishops' Conferences to give them an opportunity for informal discussion and to exchange ideas about the issues and challenges facing the Church on the Continent.
CCEE works closely with ComECE and the Permanent Observer of the Holy See to the Council of Europe in Strasbourg for several matters of common interest.
Below is a collection of documents, meetings and press releases relating to the theme of Legal Affairs and of meetings of the Legal Advisors of Europe's Bishops' Conferences.
News
Meeting of the National Experts in Malta
4 December 2023
The impact had of both the reforms of the Curia…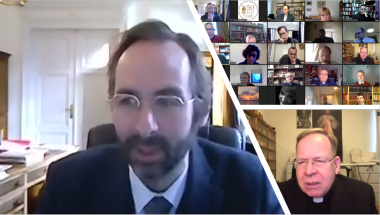 Meeting of the Legal Advisers for the European Bishops' Conferences
7 December 2021
On the morning of 7 December 2021, twenty-six legal advisers…
Reform of the canonical marriage process, conscientious objection and hate speech
17 December 2019
This is the fourth edition of the meeting of legal…